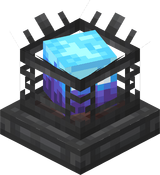 Blaze Cake is an item that can be fed to a Blaze Burner in order to make it Super-Heated.
Obtaining
[
]
To make a Blaze Cake, pour lava onto a Blaze Cake Base with a Spout.
Blaze Cake Base
[
]
Blaze Cake
[
]
Usage
[
]
Blaze Cake can be used to feed the Blaze Burner, making it Super-Heated. The Blaze becomes Super-Heated for 50 seconds. It then turns into standard blaze, lasting for 205 seconds. Then, it turns into the fading phase, lasting for 50 seconds. During this phase the Blaze still provides enough heat to make the Heated recipes. Finally, the Blaze becomes smouldering, and does not provide any heat to the basin.
Items
Raw Materials
Manufactured
Tools
Crafting Components
Food-related
Utility
Removed Items