Obtaining
[
]
Breaking
[
]
Hardness
1.5
Tool

Breaking

time[Note 1]
 Default
7.5
7.5
 Wooden
1.15
3.75
 Stone
0.6
1.9
 Iron
0.4
1.25
 Diamond
0.3
0.95
 Netherite
0.25
0.85
 Golden
0.2
0.65
↑ Times are for unenchanted tools as wielded by players with no status effects, measured in seconds. For more information, see

Breaking § Speed

.
Crafting
[
]
Usage
[
]
Chopping
[
]
Mechanical Saws are powered through rotational force, and when placed down facing to the side they will automatically chop down wood blocks in front of them. When chopping down a tree, it will automatically destroy the entire tree by only destroying the bottom-most block. This also works with 2x2 trees as long as at least the last block (horizontally) is mined using the saw. Note that Bee Nests generated on trees chopped down by mechanical saws will not be collected, and will remain in place after the tree is removed.
Mechanical saws are automatically powered when on a create Contraption.
Sawing
[
]
When placed facing upward, the Saw applies sawing or stonecutting recipes.
| Name | Ingredients | Sawing Recipe |
| --- | --- | --- |
| Stripped Wood | Respective Wood | |
| Planks | Respective Wood | |
| Shaft | Andesite Alloy | |
Block Cutting
[
]
Any Stonecutter recipe can be applied using a Filter, otherwise a random recipe will be selected.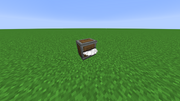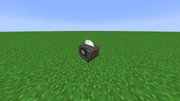 Blocks
Machines
Kinetic Blocks
Item Transportation
Generators
Redstone Components
Kinetic Appliances
Fluid Transportation
Other

Bell
Casing
Metal Ladders
Material
Metal Blocks
Glass
Windows
Palette Blocks
Removed Blocks
Removed Machines
Removed Palettes