Obtaining
[
]
Crafting
[
]
Usage
[
]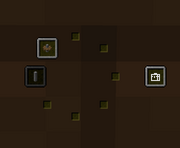 The Toolbox can hold up to 256 items per slot and up to 8 different types of items. The inventory is retained when picked up. Players can press the toolbox keybind (Alt by default) to access the toolbox inventory from up to 9 blocks away. Players can choose stack all matching items into the toolbox by clicking the "Return items" button in the interface.
In-game Tooltip
[
]
Every Inventor's dearest Companion. Conveniently holds a large amount of 8 Different item types.
When picked up
Retains inventory Contents.
When Placed in Range
Nearby Players can hold the Toolbox Keybind to access its contents Remotely.
When R-clicked
Opens the Container Interface.
History
[
]
0.3.2e: Added
Blocks
Machines
Kinetic Blocks
Item Transportation
Generators
Redstone Components
Kinetic Appliances
Fluid Transportation
Other